After dinner, I asked Lydia if she'd like to burn up the dance floor with me. She said that after consuming so much of that amazingly delicious spaghetti, there really was nothing for it. She would HAVE to dance with me ... or risk never being able to fit into her coat. I had to laugh at that. Then I took her hand in mine and escorted her to the dance floor.
I had to comment almost immediately how good of a dancer she was. My fumbling steps seemed to disappear with her as my dance partner. The compliment was well-received.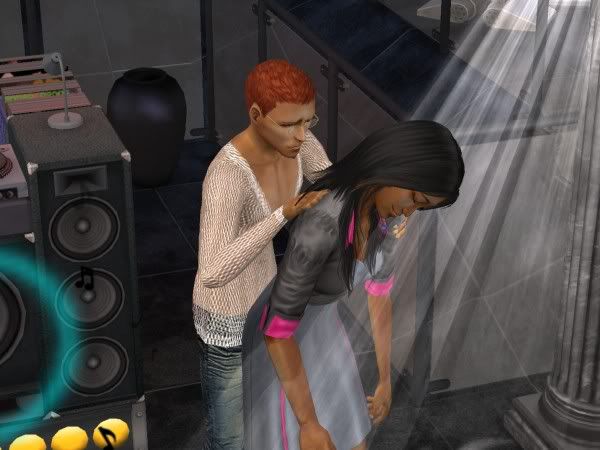 After which I decided she needed a shoulder massage. Yes, right there on the dance floor. It was really just an excuse to put my hands on her. I was feeling an itch to touch her.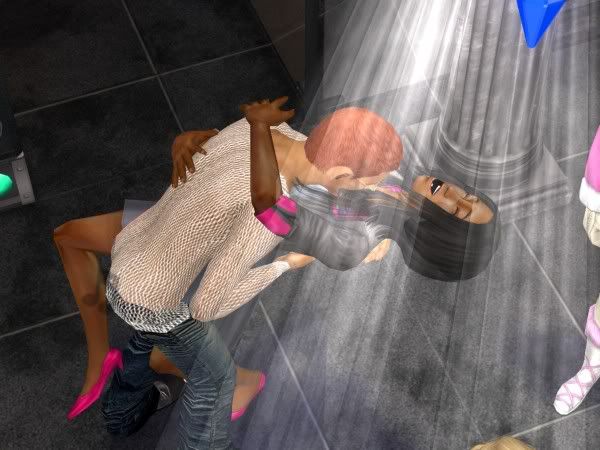 But touching her shoulders with my hands turned out not to be enough. I needed more ... more skin-to-skin contact. With very little warning, I pounced. She didn't seem to mind.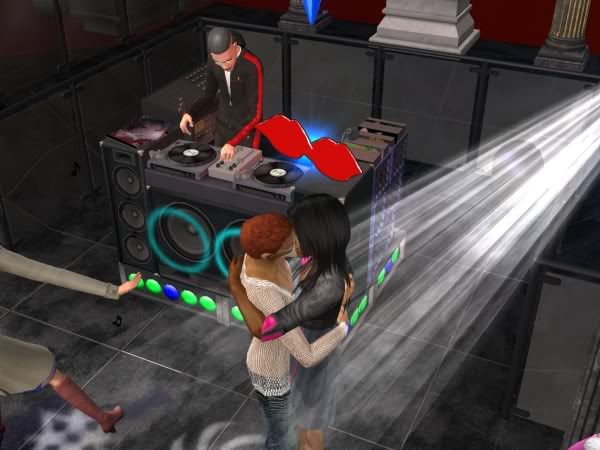 In fact ... she seemed to want more. No words passed between us as she led me towards the photobooth. At first, I didn't understand how we'd gone from making out on a crowded dance floor to her wanting to take another picture with me.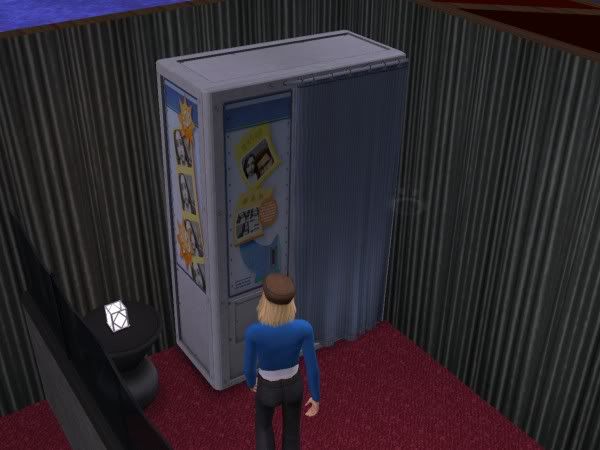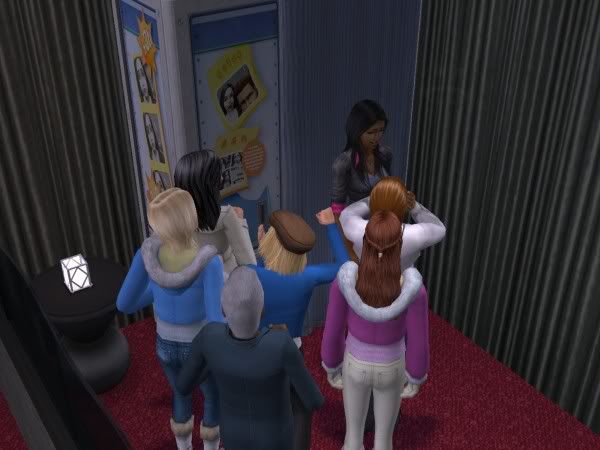 I understood quickly enough what it was she wanted ... and it wasn't to be blinded by the flashbulb. I never knew the photobooth could be used like that. I will have to make a mental note. Yes indeed ... *grin*
Of course, the moment was nearly ruined by some old hag ...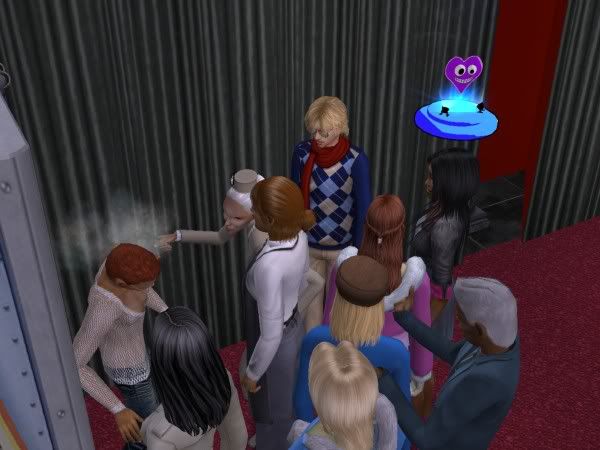 ... who felt the need to smack me with her bag. I'm 100% convinced she had a cinder block inside that thing.
The force behind her hit nearly sent me flying back into the photobooth. What the hell was HER problem?!
Joseph:
Ouch ...
Lydia:
Don't pay any attention to that old bitty, Joseph. She's just jealous that she doesn't have a man like you to make her see fireworks.
Joseph:
I made you see fireworks?
Lydia:
Mmm ... maybe ...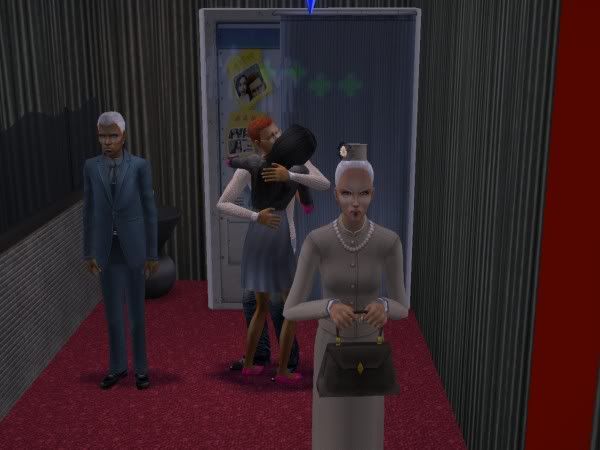 Mrs. Crumplebottom:
Young people ... they show no respect for anyone nowadays. Just up and jump into any situation for the whole world to take part in. It's DISGUSTING!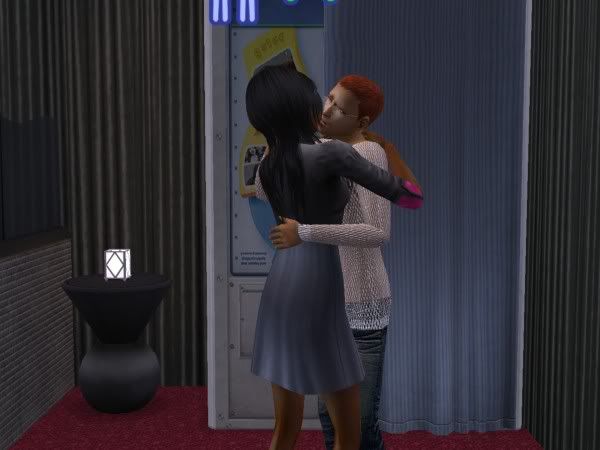 Joseph:
Did you hear something?
Lydia:
Only the romantic music in my head.
Joseph:
You're really inflating my ego, you know.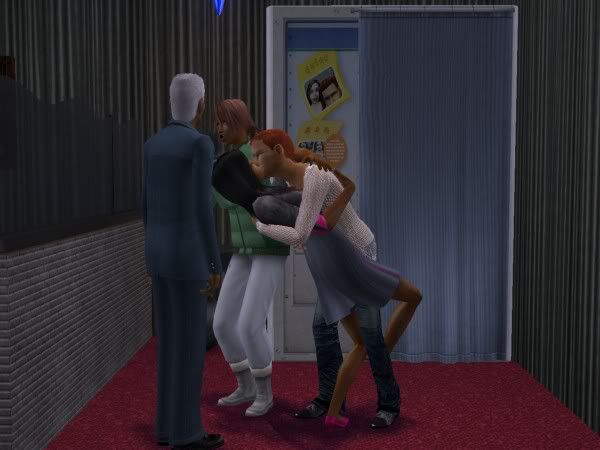 Lydia:
I know ... MMPH!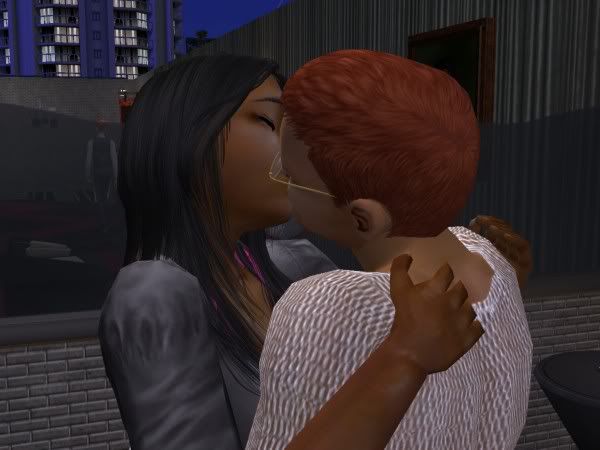 I couldn't have agreed more. I couldn't remember ever having such a wonderful time with a woman. Of course ... I didn't have much of a memory, but ... I had a feeling I'd never been with anyone like her. And I didn't think I wanted to be with anyone ... EXCEPT her.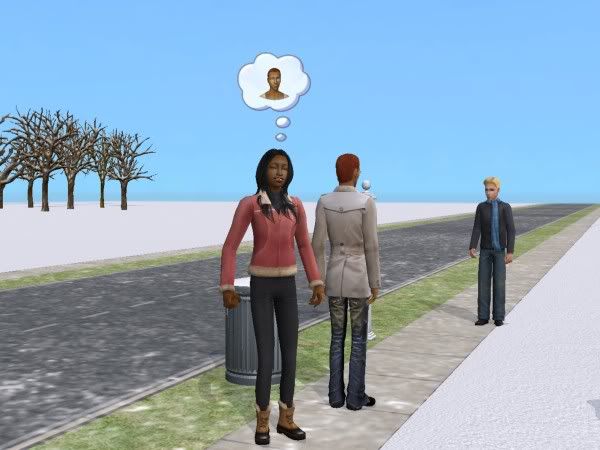 Much to both of our surprise, it was daylight by the time we returned to my place. we spent the whole night together. Isn't it amazing how fast time goes by when you're having a good time?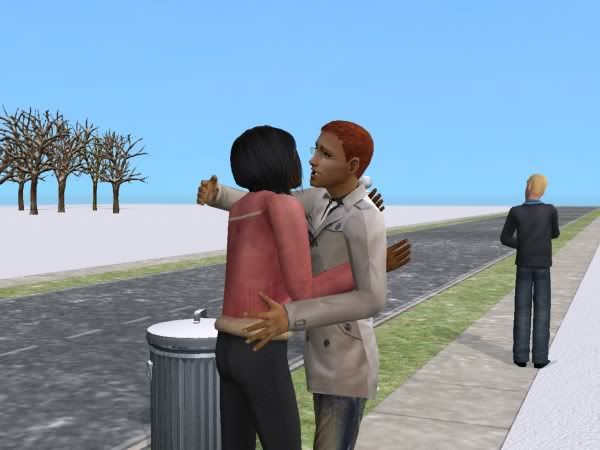 I thanked Lydia for going out with me and for showing me such a good time.
And when I informed her that I didn't want it to end ... ever ... she agreed to move in with me. Yup. Definitely feeling wonderful tonight ... err ... this morning. It feels great not being alone any longer.
---
Housekeeping time! Time to throw in those few images that didn't really fit in with the rest of the blog.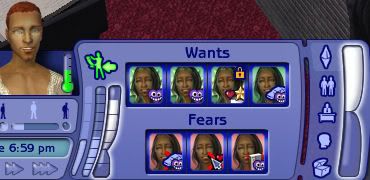 Once the two of them got "a little taste", they couldn't think about anything else. *wiggles eyebrows*




When Lydia agreed to move in with Joseph, she brought some simoleons with her. Time to modify the house!! WOOHOOO!!





Granted ... I was disappointed that her backpack was empty. It would have been icing on the cake to have some nice stuff in there.





It was a little nice that she came with some bronze badges is sewing and in pottery.





Of course, her One True Hobby WOULD be in sports. :Op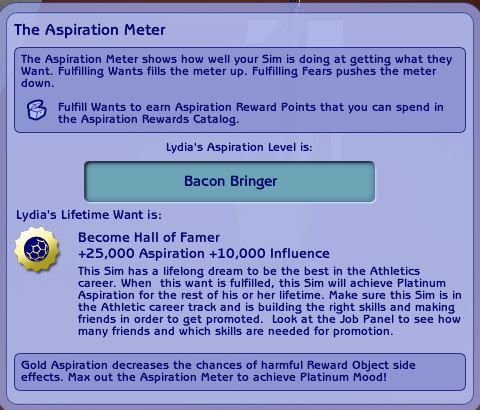 Good thing her Lifetime Want is in sports! *grin*




Her primary aspiration is Fortune (Joseph's secondary happens to be in Fortune). And she rolled Family for her secondary. :O))
---
Back ----- Page 1 ----- Next ----- Index
---